Free Parking and Admission to the Public from 9:30 AM till 4:00 PM, rain or shine, on Sunday 5/28.
Vendors set up the evening of 5/27 and early 5/28.
Car Show, Swap Meet Vendors, and Restoration Road Display are
free to the public; bring the whole family. Jump Houses,
Slides, Food, Music, 80 Vendors, 400 cars! Come early and spend the day
Preferred Limited Parking is available from the Pala Mesa Resort in their
main parking lot adjacent to the entrance to the Aqua Terra Restaurant.
Contact Contact Pala Mesa Resort
---
Spectators Free! Public Parking Free!
Public Parking has been doubled and we now have 3 entrances.
In Addition, Pala Mesa Resort will offer Pre-paid Preferred Parking next to the Resort. (Go to www.palamesa.com/preferred-parking or call 760 728-5881 for more information on Preferred Parking.)
Awards for the Best Judged Vehicles (Class and Non-Class Awards)
Dash Plaques for Registered Vehicles
Open to Vehicles 1992 and older
Entry Fee $35 - limited to 450 Single Vehicle Registrations
Registration Deadline - Postmark: May 19, 2017 - Online: May 24, 12 noon.
NO REGISTRATION ON DAY OF EVENT
On-Field Beer and Wine Garden provided by Pala Mesa Resort
Swap Meet with over 75 vendors – Reserve your space today starting at $40.
Variety of Great Food Vendors
Large Children's Play Area with "Jump Houses"
FVCC Raffle Sales and Booth; FVCC Car Show Posters & Show/Logo Merchandise Booth
Estimated 20,000 Attendees Last Year
It will be a sellout show limited to 450 Preregistered Vehicles
The 2017 Featured Cars will be DeLoreans
If you have questions or need a registration form mailed to you call Mike Simpson at 442-444-0450 , or Email Mike at registration@fallbrookvintagecarclub.org
To reserve a Swap Space, click on our Purchase Swap Space button above. Questions?  email  swap@fallbrookvintagecarclub.org
PROCEEDS FROM THE SHOW BENEFIT LOCAL FALLBROOK NON PROFIT ORGANIZATIONS - PRIMARILY THE YOUTH ORGANIZATIONS, SENIOR AND CIVIC ORGANIZATIONS AND MILITARY GROUPS THROUGH FVCC DONATIONS THROUGHOUT THE YEAR.
2017 Car Show Photos Courtesy of LoMar Photography
51st Annual Car Show was a great success
More than 500 incredible show cars! Beer and Wine Garden by Pala Mesa Resort, Live concerts by Woodie & The Longboards!
Over 100 Vendors! Great Food! Thank you to all participants and visitors! Thanks to all the volunteers for their hard work! A Special thanks to all of our sponsers
Click Here to see the winners of last years show
Check out the FallBrook Car Show App!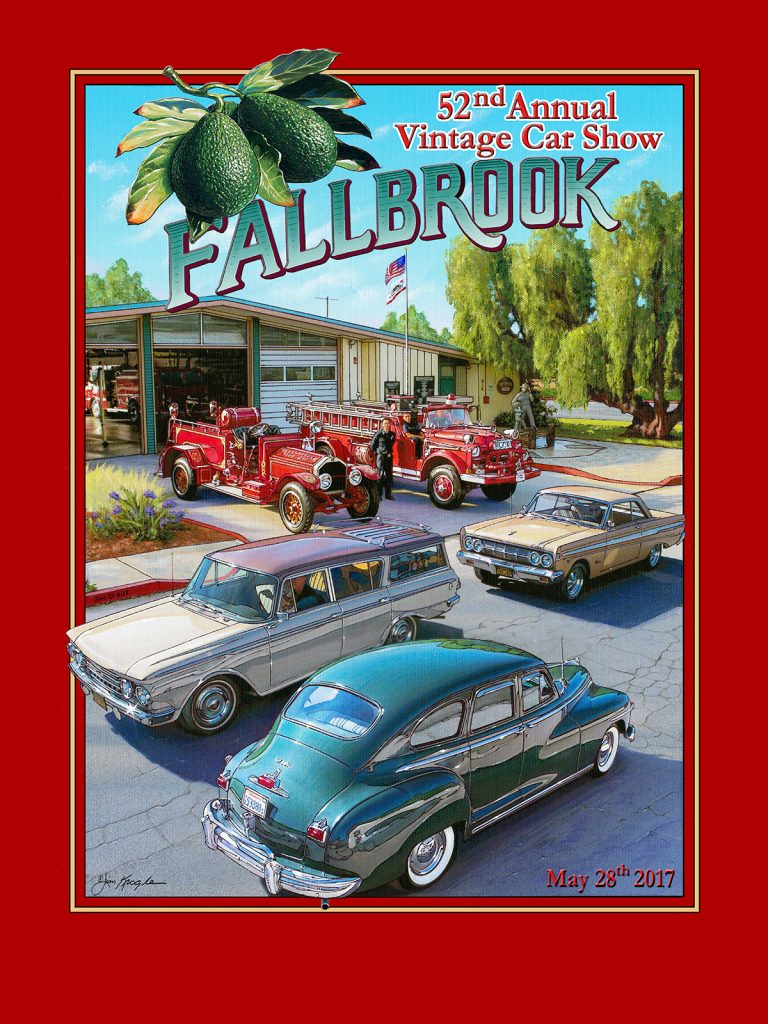 The Program includes the schedule of activities for the day of the show and an automotive guide for automotive-related businesses as well as a section for non-automotive businesses. It also includes information about the Fallbrook Vintage Car Club.
Keep this app from year to year for each year it will be automatically updated with all of the information about the current year's car show.
For instructions on how to install the application please click Here
This Year's Featured Car: DeLorean DMC-12
The DeLorean DMC-12 (commonly referred to simply as "the DeLorean" as it was the only model ever produced by the company, or just "the Back to the Future car" as it was made famous by the Back to the Future franchise, is a sports car manufactured by John DeLorean's DeLorean Motor Company for the American market from 1981–83. The car features gull-wing doors and an innovative fiberglass body structure with a steel backbone chassis, along with external brushed stainless steel body panels. The car became widely known and iconic for its appearance and was modified as a time machine in the Back to the Future media franchise.
The first prototype appeared in October 1976. Production officially began in 1981 in Dunmurry, a suburb of southwest Belfast, Northern Ireland, where the first DMC-12 rolled off the production line on January 21. Over the course of production, several features of the car were changed, such as the hood style, wheels and interior. About 9,000 DMC-12s were made before production halted in early 1983.
The DMC-12 was the only model produced by the company, which was later liquidated as the US car market went through its largest slump since the 1930s. In 2007, about 6,500 DeLorean Motor cars were believed still to exist
British entrepreneur Stephen Wynne, based in Texas, started a separate company in 1995 using the "DeLorean Motor Company" name and shortly thereafter acquired the trademark on the stylized "DMC" logo as well as the remaining parts inventory of the original DeLorean Motor Company. The company, at its suburban Humble, Texas, location, builds new cars from new old stock (NOS) parts, original equipment manufacturer (OEM) and reproduction parts on a "made to order" basis using existing vehicle identification number (VIN) plates
2017 Car Show Registration is Closed