Registration is now Open for both
Show Cars and Swap Spaces for the
56th Annual Car Show
May 28, 2023
This Year's Featured Cars: British Cars
Countdown Until the 56th Annual Car Show Memorial Day Weekend
55th Annual Car Show was a Great Success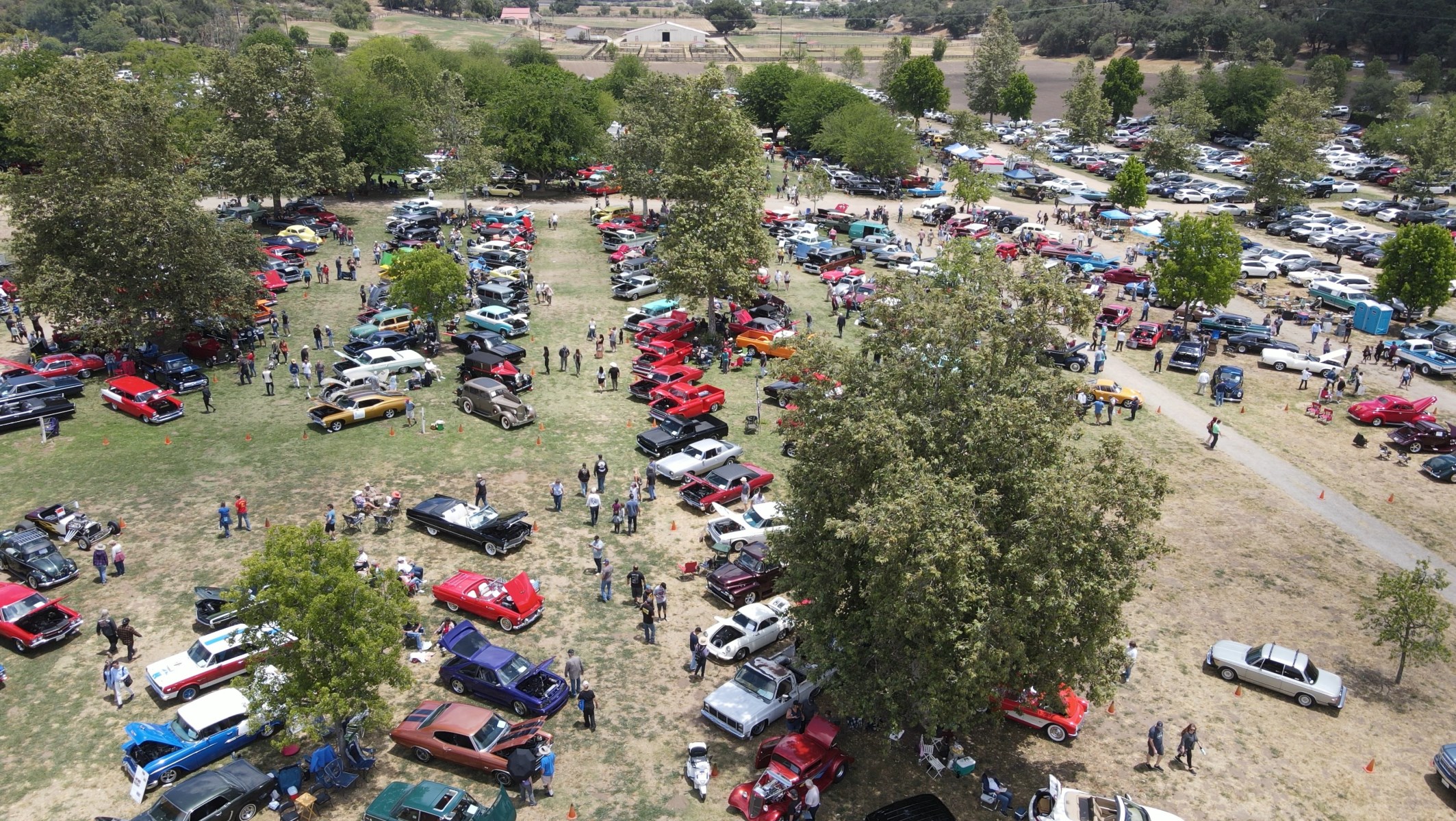 Each year we publish a numbered, signed poster to commemorate the annual car show.  It starts with a photo shoot of the cars that will be on the poster. 
Buy your copy of the new poster at the Merchandise Booth at the
Car Show or at the Avocado Festival.
And you can buy a discounted poster when you register your car for the car show!
Free Parking and Admission to the Public from 10:00 AM till 3:00 PM, rain or shine, on Sunday 5/28/2023.
Vendors set up the evening of 5/27 and early 5/28.
Car Show and Swap Meet Vendors are free to the public; bring the whole family. 
Food, Music, 40+ Vendors, 400+ cars!
Gate Opens for Show Cars                       7:00 AM
Breakfast Starts                                         8:30 AM
Live DJ                                                        8:00 AM to 3:00 PM
Judging Starts                                            10:00 AM
Official Show Opening - Presentation    
     of Colors and Playing
     of the National Anthem                        10:30 AM
Raffle Drawings Every Half-hour,
     Starting at                                              11:00 AM
Final Raffle Drawing                                   2:00 PM
Awards Ceremony (estimated time)          2:30 PM
Spectators Free! Public Parking Free!
Awards for Selected Vehicles (Class and Non-Class Awards)
Dash Plaques for Registered Vehicles
Open to Vehicles 25 years and older
Entry Fee $35 - limited to 400 Single Vehicle Registrations
Registration Deadline - Mail-In: Postmarked by May 18, 2023 – On Line: May 25, 2023 at 12 Noon.
NO REGISTRATION ON DAY OF EVENT

Swap Meet with over 40 vendors – Reserve your space today starting at $70.
Variety of Great Food Vendors

FVCC Raffle Sales and Booth; FVCC Car Show Posters & Show/Logo Merchandise Booth

It will be a sellout show limited to 400 Preregistered Vehicles

This year's Featured Cars are British Cars

If you have questions or need a registration form mailed to you call Mike Simpson at 442-444-0450 , or Email Mike at registration@fallbrookvintagecarclub.org
To reserve a Swap Space Online Click Here. Questions?  email  swap@fallbrookvintagecarclub.org
PROCEEDS FROM THE SHOW BENEFIT LOCAL FALLBROOK NON PROFIT ORGANIZATIONS - PRIMARILY THE YOUTH ORGANIZATIONS, SENIOR AND CIVIC ORGANIZATIONS AND MILITARY GROUPS THROUGH FVCC DONATIONS THROUGHOUT THE YEAR.
2022 Car Show by the Numbers