The Fallbrook Vintage Car Club's
56th Annual Car Show
Held on May 28, 2023
Was A Tremendous Sucess!
This Year's Featured Cars: British Cars
The 57th Car Show will be held on Sunday, May 26, 2024.
Registration will open in January 2024.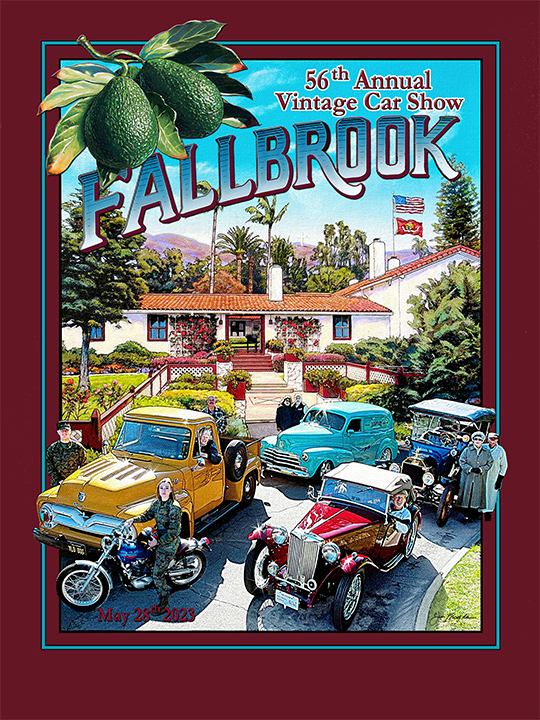 Each year we publish a numbered, signed poster to commemorate the annual car show.  It starts with a photo shoot of the cars that will be on the poster. 
2023 Car Show by the Numbers
Fallbrook Helping Fallbrook
The Fallbrook Vintage Car Club is a Charity that raises money for the benefit of Fallbrook.  Almost every month, we donate money to qualified Fallbrook Charities, and in the last few years we have donated over $100,000.   In order to qualify, a charity must be located in Fallbrook, Bonsall, or Pendleton, and be organized to serve the needs of Children, Seniors, Military Families, or the Beautification of Fallbrook. 
The annual car show is the primary source of income to fund the donations.  The businesses that advertise or donate, along with the proud owners of the cars, the swap vendors, the food vendors, and of course the public that attends our shows, are helping us help Fallbrook with every dollar spent.
We salute this support and suggest that you look over the list of these contributors who make it all possible and give them your support and business.
These generous companies donated products and services to our raffle at the car show.
RESTAURANTS                   STORES/ BUSINESS                    ENTERTAINMENT
COAL BUNKER                                       SPOILED AVOCADO/ MIMI'S BOUTIQUE           DEL MAR THOROUGHBRED CLUB
FIREHOUSE BREW                                 ACE HARDWARE                                                 FALLBROOK ART CENTER
PEKING WOK                                          UTIQUE                                                                 NEW VILLAGE ARTS CENTER
LA CUCINA                                               ELI FARMS PRODUCE STAND                          PALM SPRINGS AERIAL TRAMWAY
FRESCO GRILL                                        KAHOOTS                                                           SAN DIEGO AUTO MUSEUM
THE HEARTH COFFEE & BAKERY        MAJOR MARKET                                                SAN DIEGO MUSEUM OF ARTS
WINCHELL DONUTS                               FALLBROOK CHAMBER OF COMMERCE        SAN DIEGO AIR & SPACE MUSEUM
BELLY UP TAVERN                                  RANDY D. CARLSON, DMD                               LOS ANGELES NATURAL HISTORY MUSEUM
MARISCOS EL PACIFICO                        KEEPER SPORTS PRODUCTS                         SAN DIEGO BALLET
127 WEST SOCIAL HOUSE                                                                                                  PAINTBALL PARK CAMP PENDELTON
J & M'S FAMILY RESTAURANT                                                                                           SAN DIEGO ICE ARENA
YOGURT PALACE                                    WINERIES                                                   USS MIDWAY MUSEUM
Z SOUTH                                                   FALLBROOK WINERY                                        VISTA VALLEY COUNTRY CLUB
IN-N-OUT                                                  MONTE DE ORO WINERY                                   MINGEI INTERNATIONAL MUSEUM
THE FALLBROOK CAFÉ                                                                                                       NEW CHILDREN'S MUSEUM
RUBIO'S                                                                                                                                 SAN DIEGO BOTANIC GARDENS
                                                                                                                                                CASINO PAUMA
                                                                                                                                               CALIFORNIA SURF MUSEUM
                                                                                                                                               CYGNET THEATRE